Imagine opening up a whole other world of fun and adventure for your child. Kids aged 8+ can discover what it's like to take their first breath underwater and be weightless like an astronaut. When they turn 10 they are ready to take all their skills and start their ocean adventures.
Here is 10 reason why you should get your kids into scuba diving:
1. Opens up a world of adventure
Diving is an amazing sport that you can do anywhere. From the Great Barrier Reef, the cold murky quarries of the UK or finding yourself touching two continental plates at once. With 71% of the earth covered in water, diving opens up a whole other world to explore. The challenge is how to fit it all in!
2. Builds confidence
Lets be honest, being a scuba diver is cool. When people ask what you do for a hobby and you say you're a diver, it will lead on to questions like… Aren't you afraid of sharks? How deep can you dive? What's it like down there? Its a great conversation starter. I have also found that even the most introverted of people soon come out of there shell when they start discussing something they are passionate about, like scuba.
3. Non-competitive sport
Diving is relatively non competitive. There will always be an element of who has the best kit and who can last the longest on air. But when you're diving, its just you, your buddy and the ocean. Besides, when you are face to face with a manta ray, no one cares what kit you're wearing.
4. Opportunity to learn so many things
The amazing thing about learning to dive, is that you learn about so many other things as well like; physics, biology, chemistry, engineering, geography and history. The basic principles of breathing underwater soon lead to you understand incredible things from the effects pressure has on your body, to the behaviour of the fish life you watch. You can even learn how to explore a WW2 shipwreck and learn about how it came to be there. Many of these skills, kids as young as 8 can learn through our Aqua Missions program.
5. Develop a passion for conservation
We protect what we love! When people learn to dive, they often develop a love for the ocean and marine inhabitants and want to learn more about it and how to protect it. Marine debris, coral bleaching, fishing practices are all key issues facing the marine environment. As a result, you will find many divers get involved with citizen science projects to help protect the oceans and its inhabitants.
6. Builds trust and lifelong friendships
As a scuba diver you will often see things some people only dream about. Many people have a buddy that they always dive with, however, every diver will at some point find themselves on a boat putting their trust in someone they're meeting for the first time. Knowing that they will be there for you should the situation arise is incredible, and you also get to share special moments like when you see your first Whale Shark, or other dream dive goal.
6. Good for physical and metal health
Diving is a great way to exercise. I can't think of a better way to complete my swimming than surrounded by the wonders of the ocean. Its also great for mental health, diving is the most incredible form of meditation. It gives you lots of time to think with true peace and quiet, and time out of a busy life to appreciate the wonders of the natural world.
7. See amazing animals in their natural habitat
Whether it's swimming face to face with a humpback whale, swimming with dolphins or exploring rocks for amazing little nudibranchs and octopus - scubadiving gives you amazing opportunities to interact and observe so many amazing creatures.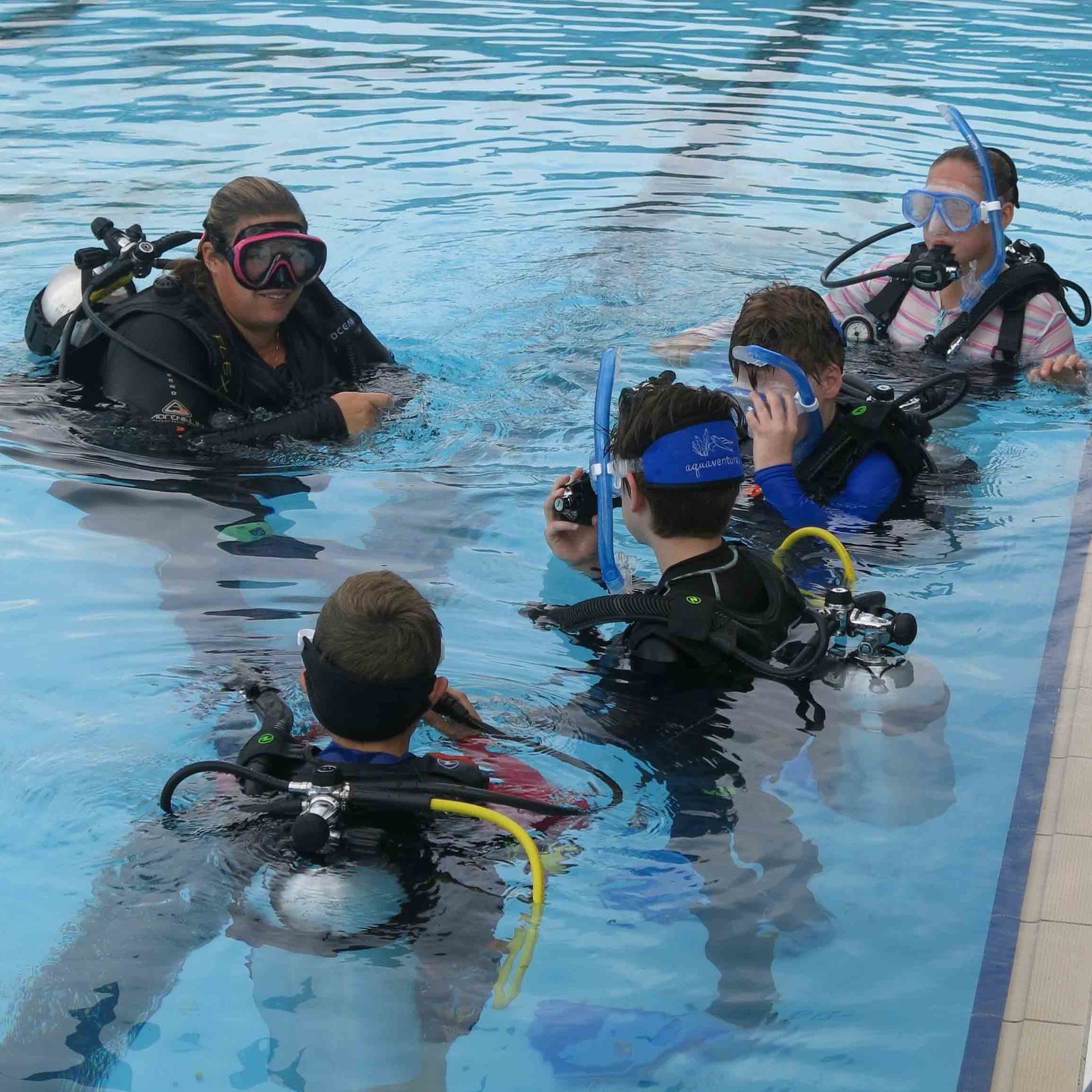 As a scuba diver there are so many fun and exciting jobs it could lead to. From teaching others to dive, surveying the reef to conserve its health, working as a commercial diver, an underwater investigator or filming the next ocean documentary! The world is your oyster!
9. Family bonding
Scuba diving can be a great family bonding activity that you can do together for life. We speak with so many families who have been diving together for years, and still enjoy family diving holidays together.
10. Peace and quiet
No matter how much they yell "MUM AND DAD", when they are underwater you wont hear a thing! Although when they surface you wont be able to stop them talking about how amazing it was under there!
Want to give it a try? We run regular kids diving experiences in Brisbane. Get your kid booked on to the next dive experience.
We will also be running some family dive trips and courses in the near future. To register your interest please sign up for our newsletter HERE.